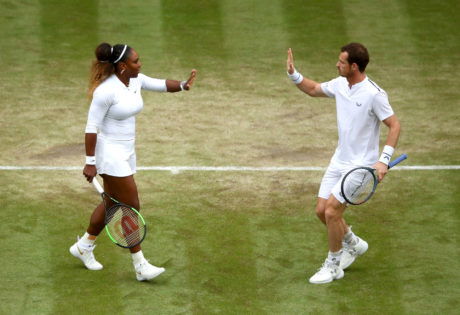 Tennis legend Serena Williams has made her mark in almost every aspect of the sport. She not only reigned in women's singles throughout her two-decade-long career but also partnered with her sister Venus Williams in women's doubles to secure several honors.
Former WTA world no. 1 has subsequently also tried her luck in mixed doubles by partnering with the former ATP world no. 1 Andy Murray. Subsequently, both players have shared a camaraderie that has helped them have each other's back both on and off the court.
Serena Williams pulling Andy Murray's leg 
Former world no. 1 players Andy Murray and Serena Williams had partnered for 2019 Wimbledon. An old video of the players' press conference resurfaced where Serena Williams could be heard making fun of her British counterpart.
In the video, they were asked about the kind of questions they get on the tour together.
Serena replied, "Well, Andy gets asked every question about his body in the US Open and literally every question in a different way. But it's the same question." Andy Murray had been recuperating from his injuries and surgeries at that period.
"And it's great for me because I get to sit here and just look at my thing is just to stay focused and not look like I'm daydreaming. But it's nice because I love him having all the attention. It's soooo good. It's such a relief," the 23-time grand slam winner added.
Former WTA world no. 1 challenges the former ATP world no. 1
Andy Murray continued and said, "Honestly, I haven't given it much thought." Serena Williams jokingly asked, "Are you gonna be able to play me?"
LONDON, ENGLAND – July 06: Andy Murray of Great Britain and Serena Williams of the United States celebrate their victory during their match against Fabrice Martin of France and Raquel Atawo of the United States in the Mixed Doubles Second Round match on Centre Court during the Wimbledon Lawn Tennis Championships at the All England Lawn Tennis and Croquet Club at Wimbledon on July 6th, 2019 in London, England. (Photo by Tim Clayton/Corbis via Getty Images)
To which Andy Murray replied, "Well, don't know. I need to train and get stronger and you know we'll see. I'm not sure."
Murray and Williams reached the third round in mixed doubles at Wimbledon 2019.
Andy Murray has, on multiple occasions, praised Serena Williams and has voiced his concern for equality in the sport. In a similar fashion, Serena Williams has always been an ardent proponent of equality in the sport. Considering their friendship both on and off the court, it doesn't come as a surprise that they both have supported each other in their individual endeavors over the years.