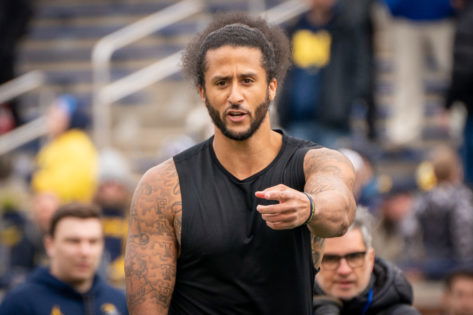 Many have widely criticized Colin Kaepernick since he began protesting about social issues around the country. When he started kneeling during the national anthem before NFL games, he received a lot of backlash from multiple people.
Even though Kaepernick's protest didn't harm anyone, people still didn't like his efforts. Many people supported him also, as they thought he was doing the right thing. Once, Patrick Mahomes' wife, Brittany Matthews, also showed her support for Kap.
On her Instagram Story, she shared a post that was directed toward people who targeted Kaepernick due to his protests. Brittany Matthews was supportive of the former 49ers quarterback, as she believed he was protesting for the right thing.
Colin Kaepernick's NFL career has been compromised due to his protests against issues around the country. He hasn't been a part of the league since 2017, and no team has given him a chance since then.
Colin Kaepernick and Patrick Mahomes have never faced each other in the NFL
The Kansas City Chiefs drafted Patrick Mahomes in 2017. It was the year that Colin Kaepernick played his last game in the NFL. As a result, Mahomes and Kaepernick haven't faced each other in the NFL.
Mahomes also comes from a black family, and he understands what kind of issues people of his race face in the country. Colin Kaepernick highlighted them on the biggest stage, and not many people liked it. Many believe that Kaepernick was cut from the NFL due to his poor performance on the field. However, some also believed that his protests led to his exit from the league.
No matter what the reason behind his exit was, he was able to inspire athletes and show them how to use the stage to help those in need. Many athletes since then have highlighted social issues, and it has improved the situation around the country, which was the main aim of Colin Kaepernick.