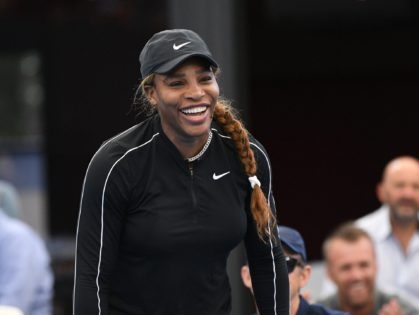 Arguably the greatest tennis player ever, Serena Williams is currently going through a Grand Slam drought. She last won a title at the Australian Open in 2017.
Incidentally, Serena suffered the same kind of drought after 2005, which ended at the Australian Open in 2007. In an interview given in 2009, Serena talked about her body weight at the Australian Open in 2007. Also, she revealed a weird way to keep her body weight in check, which was hilarious.
Serena Williams talked about a hilarious story about keeping her body weight in check
In 2009, before the start of the US Open, Serena Williams had a candid interview, where she talked about her father, mother, sisters, and plenty of other things. When asked about her body weight during the 2007 Australian Open, the American tennis player said, "You mean when I was super-thick?" Pardon? "You heard me, Moooooo! How did I move so fast? I haven't stepped on the scale in about 15 years. If I step on a scale, I won't eat for five months."
Notably, Serena had to overcome a lot of injuries before her triumph at the Australian Open in 2007. Apart from that, many former tennis players criticized her for focusing on other things instead of tennis. However, the American tennis player shocked everyone at the Australian Open and won the tournament after beating the world no.1 at that time, Maria Sharapova in the final.
Notably, Serena only played four tournaments in 2006, as injuries wrecked havoc on her season. As a result, she fell out of the top 100 in the WTA rankings. Moreover, she had a ranking of 81 at the Australian Open. Despite that, she showed incredible grit and determination to win the Grand Slam title.
Can Serena overcome her Grand Slam drought at the US Open 2022?
It has been almost five years since Serena won the Australian Open in 2017. Since then, she reached four Grand Slam finals, but luck was not on her side. Moreover, she nearly missed a year of tennis after suffering a hamstring injury at the Wimbledon Championships 2021.